The Need for Innovation in New Drug Development
Global pharma R&D spend is running at >US$200bn with <1% success rate. The industry has seen a doubling of costs to develop a new drug since 2010; at the same time, ROI has fallen from 10% to 2%. Meanwhile demand continues to expand for increasingly personalised medicine to cure devastating chronic diseases. New digital technologies, in particular the use of Artificial Intelligence (AI), are now being embraced to help transform the efficiency and effectiveness of new drug development. Our niche area of focus is on the force-field energy configuration and crystal structure packing of new drug molecules which can manifest in different polymorphic forms.
For API optimization, it is essential to identify and select the most therapeutically desirable and thermodynamically stable polymorph for product development.
Polymorph characterisation is now also essential for compliance with the requirements for regulatory filings on new drugs, as well as for the patenting of new molecular entities (NMEs).
Existing state-of-the-art techniques for polymorph analysis require long and painstaking experimentation by material scientists with uncertain results.
Current computational solutions are also limited because they are typically based on general-purpose force-fields, which have often neither been tested nor optimized to reproduce the various polymorphic forms, including stability ranking, through experiment.
Introducing the BioSim M2M Platform
Universal solution for any molecule
Ultrafast high performance
Cost effectiveness of the cloud
Intelligence to match real-world experimentation
BioSim M2M Applications
The BioSim M2M Platform is currently being applied to two particularly key areas of R&D in the pharma industry: Crystal Structure Prediction (M2M-CSP) and Structure-based Drug Design (M2M-SBDD).
Crystal structure prediction
The BioSim M2M-CSP solution promises to bring far greater levels of speed and certainty to the current tedious and painstaking work of material scientists in developing new drugs which are fit for patient use, by searching exhaustively and ranking the stability of all crystal polymorphs of a drug compound in its solid-state form.
Structure-based drug design
The universal ability of our technology to accurately compute molecular force-field interactions can be deployed in drug discovery via the M2M-SBDD solution whereby the structure of the target disease protein is known and the binding of a library of drug compounds needs to be determined to identify promising leads with much more predictable success.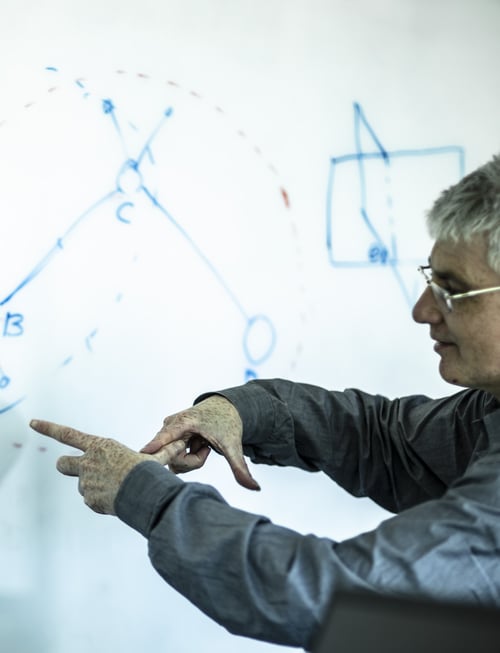 Breakthrough Innovation
BioSimulytics has developed a linear-scaling first-principles method for calculating the configurational energy of a system, in particular the configurational energy of a system having a number of particles. The BioSimulytics invention, which is subject to an international patent application, is being applied to crystal structure prediction (CSP) for determining the most stable crystal structure or polymorph of a drug compound, as well as the most stable binding poses in protein-ligand complexes in the arena of structure-based drug design (SBDD) and computer-aided drug design (CADD). A description of some of the core underlying principles behind our breakthrough method as applied to Water-Ice molecules has been published in the Journal of Chemical Theory & Computation.
Download publication
About Us
BioSimulytics was formed in November 2019 as a spin-out company from the School of Chemical and Bioprocess Engineering at University College Dublin (UCD), Ireland. The company is backed by a combination of national funding through Enterprise Ireland and a number of private investors, and has received numerous awards for its innovative technology. BioSimulytics is now working with a number of leading global pharma companies, solution providers and research institutes on implementing its technology to drive major value enhancements in the drug research & development process.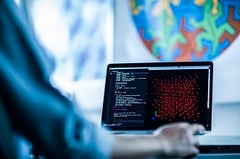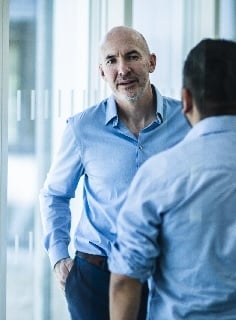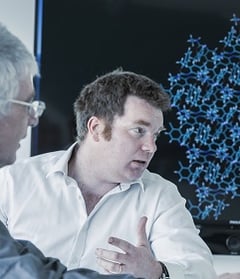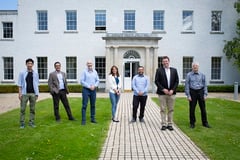 Meet the Team

Peter F Doyle
CEO & Co-Founder
Peter is a highly experienced co-founder, executive and business coach in the high-tech sector including previous IPO and private equity fundraising experience.

Niall English
CTO & Co-Founder
Niall is a Full Professor in Chemical Engineering with previous industrial experience working in molecular simulation and drug design in both the US and UK.

Christian Burnham
Head of R&D & Co-Founder
Christian is a physics graduate from Imperial College in London and the lead developer of the company's core technology.

Mozhdeh Shiranirad
Computational Scientist
Mozhdeh is a mathematician whose research interests are specialised in the field of quantum computation applied to molecular simulation.

Paul Kilroy-Glynn
Head of Business Development
Paul has a background in genetics research, along with senior roles providing information services to biopharma clients and has completed an MBA.
Join our growing team
We are continuously looking for talented scientists and innovators with a passion for making a real impact in the world to join our team.
Enquire now